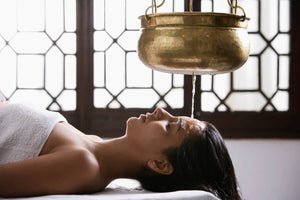 Customer Reviews
02/14/2023
Alexandra S.

United States
Most amazing experience
I am so grateful for this treatment. Laura is excellent and provided such a safe space for me when I was feeling extremely anxious. I left feeling rejuvenated, grounded, and safe. You also get to bring home your oils to use for Abhyanga which is another added benefit. Thank you so much!
01/23/2023
Barbara M.

United States
Bliss!!
This was my first Shirodara treatment . The calming atmosphere and warmest of welcomes by Lita and Laura (with a warm embrace of tea), paved the way for an amazing experience administered masterfully and so lovingly by Laura in a spectacular, soothing space. Shirodara was unlike anything I've ever experienced where the benefits linger and continue to unfold for days. I would return again and again to this very special space.
11/04/2021
MaryAnne P.

United States
Shirodhara
Relaxing and different. Not your run of the mill treatment. I think of it as a facial to the scalp. Your hair will love ❤️ you. I left the treatment in for at least 24hours. And once you wash it out your scalp and hair will look fantastic.